Mokykis savo tempu, kur ir kada tau patogu!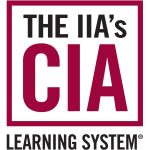 Tarptautinio vidaus auditorių institutas kviečia įsigyti interaktyvią mokymų medžiagą ir savarankiškai pasiruošti trims atnaujinto CIA (Certified Internal Auditor) sertifikato egzamino dalims. Mokymų medžiaga suderinta su egzamino turiniu, kuris pradėtas naudoti nuo 2019 m. sausio 1 d. Joje pateikta 500 naujų testo klausimų, kurie tiesiogiai yra susieti su atitinkamomis teorijos dalimis, kurių iš viso yra trys:
1 dalis. Vidaus audito pagrindai
2 dalis. Vidaus audito praktika
3 dalis. Verslo išmanymas.
Mokymų medžiagą galite parsisiųsti į savo asmeninę skaityklę arba skaityti internete. Interaktyvūs internetiniai mokymosi įrankiai pritaikyti mobiliesiems įrenginiams. Jie padės susikurti personalizuotą mokymosi planą, pasitikrinti žinias apie kiekvieną iš CIA sertifikato egzamino temą, sekti pažangą ir galutinai pasiruošti CIA sertifikato egzaminui.
Įsigyta pilnos apimties medžiaga prieinama internetu dvejus metus nuo įsigijimo, o įsigijus atskiras medžiagos dalis, prieinamumas trumpėja iki vienerių metų. Galimybės atsispausdinti mokymų medžiagą nėra.
Svarbu! Mokymų medžiaga yra anglų kalba.
The IIA Strategic Partnership atsako į dažniausiai užduodamus klausimus:
These materials were just released for the new 2019 version of the exam.  Typically the exams only change every 3-4 years so these materials should be good for a couple more years.  The Full Kit online access includes 2 years of access (one part- 1 year access).
The materials are available in an online only format which includes an embedded e-reader for reading while on-line and it also includes a free e-book download which can be downloaded to a computer or tablet device.  The materials are not available in a PDF.  The Learning System includes all components listed here:  https://www.learncia.com/course-materials/.

The online software can be used on any device where the customer has online access (computer, phone, tablet, etc).   They are also able to download the reading materials via e-book so they can download those to any device that supports e-pubs.  The online software is licensed to one individual person and they will have their own login.  They can login to one device at a time.  The materials are not able to be shared, passed along or used by multiple users.
Daugiau informacijos rasite šioje nuorodoje: https://bookstore.theiia.org/the-iias-cia-learning-system-version-60-3-part-cia-review
Vidaus auditorių asociacijos nariams yra taikoma speciali kaina:
visų trijų dalių rinkinio kaina yra 520 eur (ne nariui 800 eur)
atskiros dalies kaina yra 190 eur (ne nariui 290 eur)
Svarbu! Kaina gali keistis, ženkliai pasikeitus USD valiutos kursui. Spausdinta medžiaga nėra siunčiama.  
Klausimus dėl mokymų sistemos rašykite mokymai@vaa.lt.
Norėdami įsigyti mokymų medžiagą, užpildykite žemiau esančią užsakymo poreikio anketą. Su Jumis bus susisiekta, kai bus vykdomas artimiausias pirkimas.